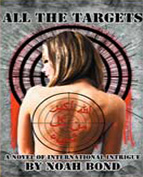 ALL THE TARGETS. Marco Redondo, United States Senator from Texas, watches the red lines snake relentlessly across the lighted screen at Cheyenne Mountain. They represent impending death and destruction for the West Coast, but he doesn't know that yet. Then he gets a call . . .
In East Jerusalem, a would-be terrorist plots to bomb a car from the American Embassy, but finds himself out of his depth when it doesn't go exactly as planned. A prominent U.S. official is assassinated before television cameras – twice. A girl named Jung plays rock 'n roll to get next to the leader of North Korea. An agent assigned to be a double for an absent official finds herself bound to a Celtic sacrificial altar.
ForeWord Clarion Review gives ALL THE TARGETS 4-stars! This is a professional review, as used by the book industry. Read the review by clicking here.
Buy from your favorite online store: