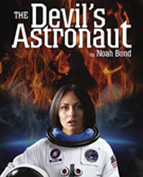 THE DEVIL'S ASTRONAUT Science fiction for grown-ups, set in the present. A history professor doing research at the Kennedy Space Center stumbles across some obscure information buried in the Apollo archives that leads him to conclude that a top secret project was initiated on the Moon decades previously. Urged on by the widow of that project's director and her Astronaut daughter, he sets out to prove his hypothesis. He enlists the help of Russian scientists who have intercepted messages that support his conclusions. But there is a new player in this drama that none of them suspects, who will put the professor's Astronaut girlfriend in mortal danger and change the future of mankind.
Buy from your favorite online store:

The Devil's Astronaut, by Noah Bond, is a fictional novel with science fiction elements woven throughout. This is a creative, intriguing book that kept me interested until the very end.
When I started reading this book, I had a pre-conceived idea of where it was going. However, I was wrong! The plot was unique and had enough twists and turns to keep me thoroughly engaged.
I rate this book 4 out of 4 stars.
Source: Online Book Club